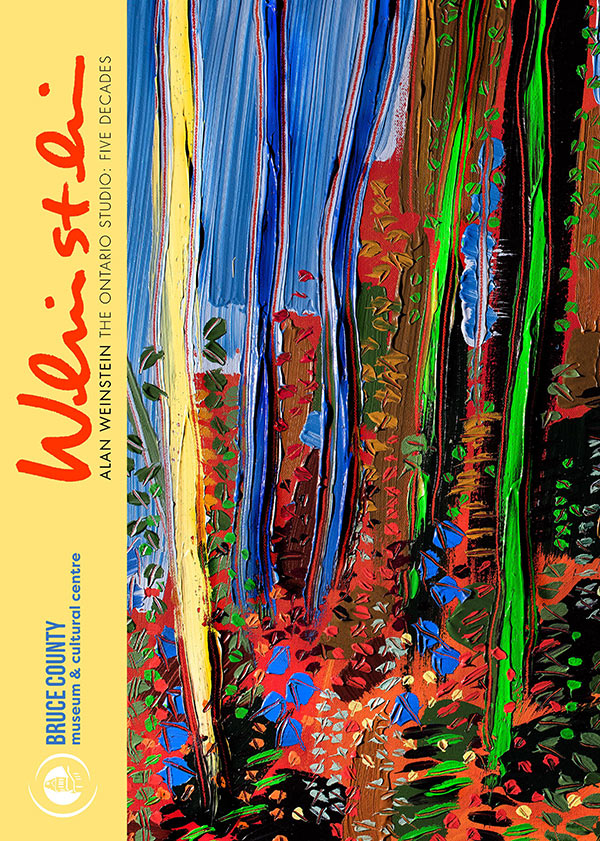 During the summer of 2018, the Bruce County Museum and Cultural Centre exhibited ALAN WEINSTEIN The Ontario Studio: Five Decades.
The retrospective presented paintings and prints from Weinstein's Bruce County studio through 77 works. The metamorphosis of thematic fixations and the restless explorations of media revealed a life of visual discovery.
Each decade was given its progression. The early 1970's oils of helmeted faces and armored figures led to the large-scale acrylics for the 26 by 19 foot wall of Musician Tapestries at the Saskatchewan Centre for the Arts, 1977.
The 1980's life-size paintings and the cut-paper masks preceded the Amish series (interiors with figures), the Hearth paintings (figures and woodstoves) and the Monument series (architectural structures in open spaces).
The early 90's focused on spare interiors with women, children and chairs – lean forms embraced by warm color. In the summer of 1995, an abrupt shift of direction plunged Weinstein into imageries of field, sky and forest, sensuous paint and energetic brush drawing. By 1999, a unique graphic diction articulated a personal world of woods and trees.
Over the last twenty years, the pieced landscapes of joined canvases have morphed into monumental cut-canvas murals, as large as 20 feet long, an elaboration of ideas that first appeared in the Musician paintings of the 70's.
Weinstein still spends summer months of every year in his corner of Ontario. Brilliant light and evolving vistas continue to shape the vocabulary of this artist's voice. For fifty years, the barn in the Bruce has been the keystone in the arc of his growth.